If you are planning to visit Mykonos for your vacations you may have already found out that this is not just a Greek island. Mykonos has a lot to offer to its visitors and there are so many things to see and enjoy. If you are visiting only for a few days it would be essential to organize your trip so that you can see at least the most important things on the island. 
30 stunning sandy Beaches
You may have heard a lot about the famous party beaches in the south – Paradise, Super Paradise, Psarou, and Paraga – but there are so many more beautiful beaches on the island. Mykonos has 30 accessible beaches including organized ones, serene or crowded ones, sandy or partially rocky ones.
If you are visiting Mykonos with your family and you are looking for a beach suitable for young kids, you should prefer beaches with shallow waters and a lot of facilities – like Agios Ioannis, Kalafatis and Platis Gialos. If you are traveling as a couple you may prefer a more secluded beach, like Fokos, Ftelia or Kapari. In case you want to try some watersports, the best beaches for you are Super Paradise, Elia, Kalafatis and Agrari.
A good idea would be to arrange your accommodation in a Mykonos Villa near one of the beaches you believe that is more suitable for you. There are a lot of Mykonos Luxury Villas available for rent and you will definitely find the ideal one for you.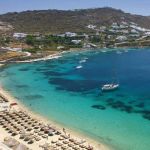 Vivid nightlife & famous restaurants
This is maybe the number one reason people choose Mykonos for their summer vacation. It is true that the island offers an exceptionally rich nightlife starting at the sunset and finishing the next morning. Parties in Mykonos are epic and easy to find. Mykonos Town narrow streets get crowded when the night falls with loud music coming from the many bars and night clubs and people dancing or socializing everywhere around. Some of the most popular for their vivid atmosphere are Astra, Toy room, Scarpa, Moni, Caprice, Jackie O, Queen, Bomboniere and Madon.
The two main poles of Mykonos' nightlife are Mykonos Town and the southern party beaches like Psarou, Paraga and Super Paradise. In Mykonos Town you will have a wide range of clubs and bars to choose from. At the party beaches, you will have a unique experience of having fun, dancing on the sand and tasting some of the most exotic cocktails next to the sea. People from all over the world arrive every year to spend memorable times next to the sea at cosmopolitan Nammos beach restaurant, Scorpios, Santanna, Alemagou, and Principοte.
Mykonos has a terrific dining scene. The densest concentration of dining options is in town, where visitors can find anything from gourmet dining to authentic Italian and traditional Greek tavernas. Some of the most famous and worth mentioning restaurants are Remezzo, Interni, Koursaros, M-eating, Sea Satin, Ling Ling Hakkasan, Casa Tu, Kalita and Mamalouca.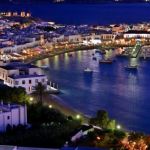 Delos is a small islet very close to Mykonos which was very well known during ancient times. According to Greek mythology, God Apollo and Goddess Artemis were born here. The whole island was considered to be a sacred place and a lot of temples and facilities were built to honor not only Apollo and Artemis but other gods as well.
Today Delos has one of the most important Greek archeological sites and a great museum with exhibits from ancient times. Delos also has some beautiful serene beaches so it would be a good opportunity to combine a visit to the museum with a few hours on a sandy, quiet beach. Staying overnight on Delos is forbidden so you have to leave the islet late in the evening.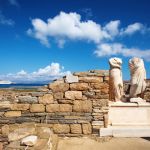 Mykonos was an important port for centuries, as the island's position made it a perfect stop for ships to renew their supplies while traveling to distant places. This lead to a mixture of many cultures and a great tolerance to everything different or unusual.
A very good example of the unique Mykonian culture is Paraportiani Church, a one-of-a-kind complex of 5 chapels, each one built in a different architectural style. Another amazing fact is that Mykonos has more than 500 churches and chapels.
Travelers who love arts will find a lot of galleries and art rooms on the island. You can either just wander around to see some great pieces of art or even buy something to take back home with you. Mykonos is a meeting point for famous and uprising artists from all over the world.
If you are a fan of history you will find a lot of interesting exhibitions in Mykonos' museums. There are 6 museums in Mykonos Town where visitors can have a look at the island's past, from ancient times to the 19th century.